I'm so excited that
One Kings Lane
has featured my $2 chair transformation!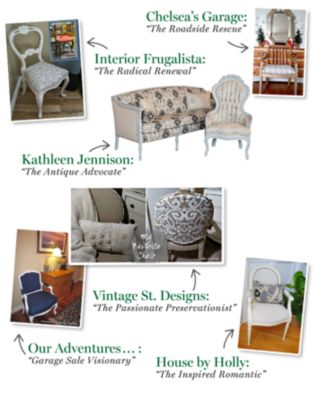 Meet the Bloggers Who Inspired Us!
There's more to DIY than the 'D' and the 'I'—and these brave bloggers showed us a thing or two about tackling tough projects. In sharing their favorite statement chairs, each of the following ladies proved that, with a little love (and elbow grease), any chair can go from drab to fab!
And the awards go to…
Chelsea, of
Chelsea's Garage
, found this pretty country-style spin on a classic
Sheraton
chair sitting by the side of the road. With freshly upholstered interchangeable seat cushions, she turned it into this sweet little multitasker—a true "
Roadside Rescue
."
Marie, of
Interior Frugalista
, went in for a quick refresh, but quickly realized this
Victorian
buckle-back chair was going to be
a lot
more work. After removing its original straw stuffing and adding new upholstery and a fresh finish, she accomplished what we can only call a "
Radical Renewal
."
Interior design pro
Kathleen Jennison
has the art of transforming antique chairs into modern creations down to a science, and we love her vision! Her roster of statement chairs—all reupholstered with her magic touch—gives her the honor of "
Antique Advocate
" in our book.
We love how Judy, of
Vintage Street Designs
, knew the vibe she wanted for this
French-inspired
Colonial revival chair, and brought it to life. Her total transformation infuses a dose of Parisian elegance and French country charm to her "
Inspired Romantic
" DIY.
Holly, of
House by Holly
, found this
Louis XVI
seat on a curb, and defied the odds to bring it back to its former glory! We've dubbed her a "
Passionate Preservationist
" for her ability to see the potential of this regal seat.
Pam, of Our Adventures in Home Improvement, is a true "Garage Sale Visionary." The heart and soul of this DIY was giving this tired
Louis XV
fauteuil a new lease on life—and we applaud her tireless efforts, and amazing results!
Thank you so much to One Kings Lane and t
hank you for your visit.